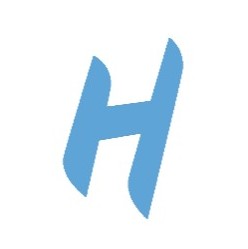 Make an awesome Discord server with Hoppi!
Games, currency, photoshop, memes, and much more!


Bot Prefix: ;

(a semi-colon, eg. ;help)
Join our Support Server!
You can give feedback, suggestions, report bugs, hang out, or just talk with other users!
We welcome all members that follow our community rules.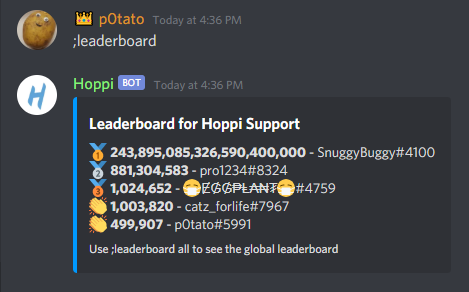 💰 Currency
Earn currency by gambling, begging, or getting it for free,
and try to become the richest user in the WORLD!
(In the world of Hoppi)


🎉 Fun
Use funny commands, play games, get cool random pictures,
or just waste your time using Hoppi's
vast category of fun commands!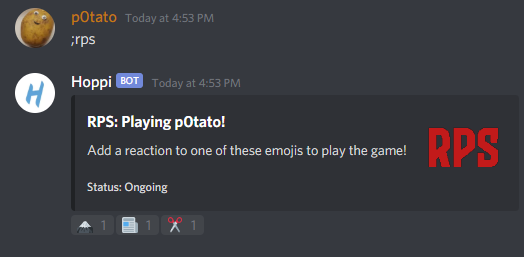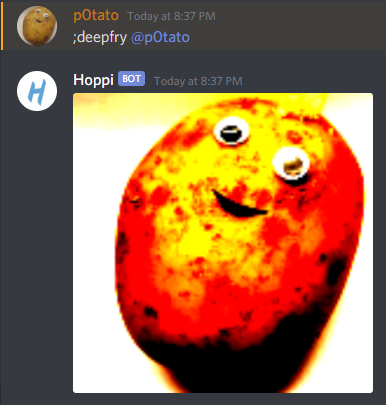 📷 Photoshop
Edit images easily by either mentioning a user to use their profile pic,
or provide a link and Hoppi will use that image,
then use a specific method and you're done!

Hoppi only supports the following image formats for links:
png, jpeg, gif, bmp, tiff

Also keep in mind that Hoppi cannot use screenshots,
the image must be hosted online.



🤣 Memes
Create memes using Hoppi's meme creator feature!
Specify the template (see templates by using ;meme templates),
and then your texts separated by two dashes!

You can also use the simple ;meme to get a random meme from Reddit!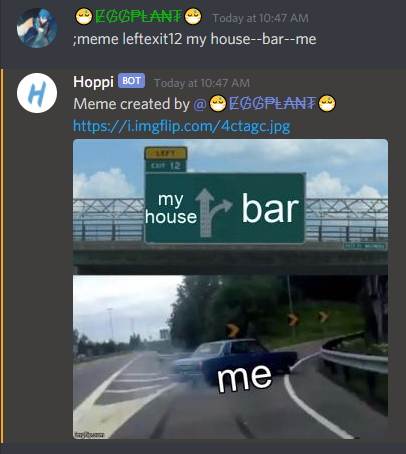 🔎 Internet Searches
Search websites such as Reddit, Google Images,
the Urban Dictionary, Giphy, Wikipedia, and many more
for images, definitions, and gifs!



👮 Server Management
Hoppi makes server management easier for you with commands
such as purge, snipe, editsnipe,
and logging events that occur in your server!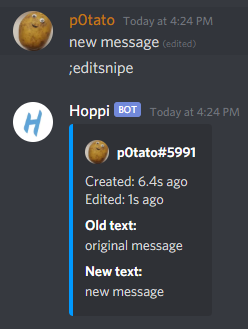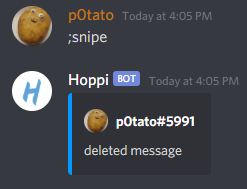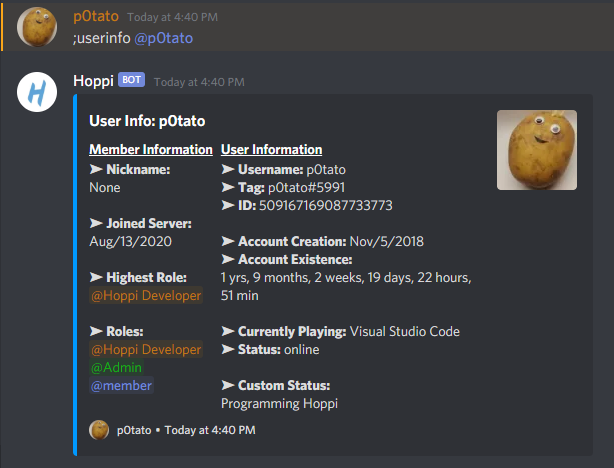 📚 Info Commands
View another user's or your info by using Hoppi's userinfo command!
Hoppi also has commands that display your server's info,
such as bans, roles, role permissions, and much more!
And that's just the beginning!
These features are only a few out of many. Hoppi has tons more commands,
but you'll have to invite the bot to your server to test them all!



GAMERZ
Gamerz is a gaming server for all games, and we are a partner of Hoppi!
We welcome players from all games, new, popular or undiscovered.

Report bugs or give suggestions here!
Click the type of message you are sending and enter some details, then click submit!
Important links related to Hoppi, click to copy.
---
Light Mode
Light Mode